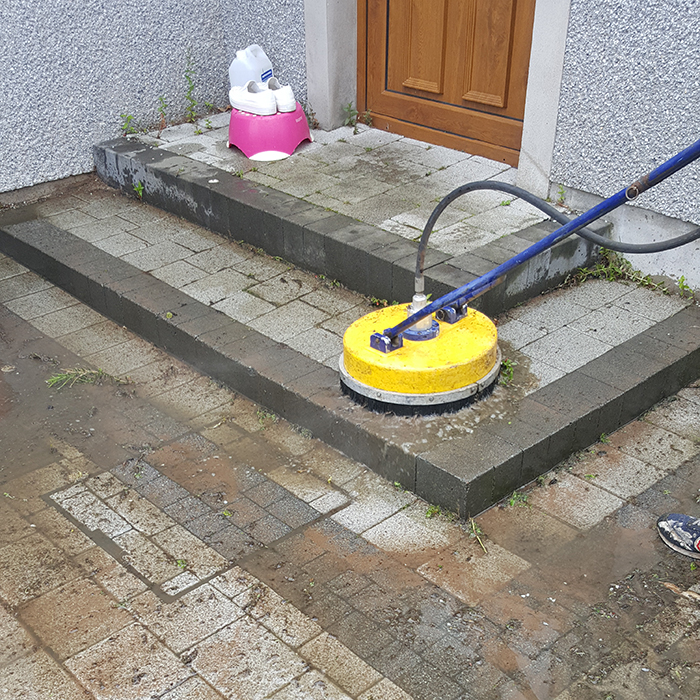 With our Care and Experience
along with our competitive prices…
we can professionally bring your property back to an original fresh finish by removing years of grime, traffic impurities, stains, dirt or general weathering, leaving you with a bright and lasting new look that will stay with your property for years.
With complete commercial cleaning solutions at rates to suit you, we can undertake and complete any types of property facelifts – domestic or to the industry, and all for less than you might expect…
It's very important to remember as soon as an area is powerwashed its then vunerable to the elements so it must be chemically treated and sealed using a suitable sealant.
Areas that we cover:


Brick Paving • Concrete • Tarmac • Flag Stones• Decking • Sandstone • Granite
Long Reach Power Washing
We aim to deliver the best quality job…
using latest techniques with constant invest in new equipment to ensure the safety of our workers and clients.
The long reach specialist power washing lance allows us to safely power wash areas up to 35ft high while never leaving the safety of the ground.
PVC & Fascia Board Cleaning

Removal of derelict bids nests

PVC Frames Cleaned

General tidying up of exterior of the home
Safety is our #1 Priority!
Window Cleaning Specialists
Window and& Frames are cleaned using de-ionised water, this means that processing water through several filters puries the water leaving a streak Free finish. Our window cleaning water fed poles allow us to access windows that are normally too difficult to reach including most velux windows.
Traditionally window cleaners have relied upon ladders cradles scaffolds & other lifting systems to access windows above ground floor levels.
The introduction of Water Fed Poles (WFP) allow window cleaners to access windows and uPVC windows at heights up to 60 ft from ground level.  Avoiding the need to work at height is an obvious attraction however, there are various considerations to be taken into account.  Your windows will be cleaned using a method, which will soon be the industry standard. 
As a company aspiring to be at the forefront of our industry, we have invested in this technology which involves the use of telescopic poles and 100% pure water, which we filter through deionisation vessels.
Better Cleaning Results
The major advantage of pure window cleaning water is its desire to return to its impure state; hence its capacity to absorb large amounts of dirt from your windows.  The process involves brushing your windows clean with pure water leaving them wet allowing to dry naturally.  Although this is not what your used to you will see the difference after 2 / 3 cleans.
Environmentally Friendly
Only pure window cleaning water is used, eliminating the need for detergents & chemicals.
Reduced Disturbance
& Increased Privacy
No more dents in your lawn or ladder markings against window cills etc. Although we tried to minimise this sometimes the old fashioned methods made it very difficult.
No more odd faces peering through your upstairs windows causing those embarrassing moments to us both, yes it does happen on occasion but not anymore…
Fill out the call back form
and we will be in touch >